Roof-Top Solar PV system project for home and office
Electricity generated through coal plants is becoming expensive by every passing day. Power cuts and increasing dependence on DG sets is causing a lot of damage to the environment. The demand supply gap for electricity is increasing in the country which makes it very important for people to start thinking of other ways of realizing their energy needs. Keeping this in mind Ministry of New and Renewable Energy (MNRE), Government of India is promoting off-grid solar PV systems under the Jawaharlal Nehru National Solar Mission in the country. Many people in the country have started feeling the need of installing solar PV system for their home, apartment complex or small office use, and with this article we would try to provide some information which can be a good starting point for a roof-top Solar PV system project.
ADVANTAGES OF ROOFTOP SOLAR
Rooftop Solar has 80% Accelerated Depreciation in 1st Year
Rest 20% in the 2nd Year
Save Diesel and running cost of Diesel Generator set
Free power for roughly 18 years post payback
Acquire Green Image and meet CSR objective
The solar system provides a stand-alone power supply for all users, which is independent, reliable and stable
Users shall not rely on grid power any more
The system operates with little maintenance for long time span
Stress-Free life from daily power cuts
Environmentally friendly - No Noise, No Smoke, No Pollution
Reduced Electricity bills
Net Metering help you to export unused power and audited from the bill
Easy Financing
EMIs make solar affordable. Get financing in four easy steps.
Solar system design
STAR Energy Systems provides multiple system options. Choose your final design and price.
Supports bank financing
STAR Energy Systems works with multiple banks simultaneously to identify financing that's perfect for you.
KYC process
Email your documents to Star Energy for quick verification.
Financing done!
Loans are typically disbursed in 3-4 weeks.
What are the terms and conditions for solar loans?
Loan Amount Limits
Up to ₹25 Lakh or 85% of project cost (whichever is lower)
Interest Rate
Home loan top up: ~9%
General: 10.65%
Women: 10.15%
Loan Amount Limits
Up to ₹1.5 Crore or 80% of project cost (whichever is lower)
Interest Rate
Upto ₹25 Lakh: 10.65%
More than ₹25 Lakh: starting at 9.5%
Loan Amount Limits
Up to ₹1.5 Crore or 80% of project cost (whichever is lower)
Interest Rate
General: 10.65%
Loan duration
Up to 7 years
Loan processing time needed
Typically 3-4 weeks
Loan processing charges
Up to ₹1 Lakh: Free!
Above ₹1 Lakh: From 0.50% of loan amount
Insurance Requirements
Solar assets created with such bank loans need to be insured in favour of the bank for the duration of the loan
What is the process for a solar loan application?
Roof-Top Solar PV system project for home and office
PAN Card
Proof of Identity
Proof of Address
We will match your requirements across our bank and lender partners to find the best loan for you, guide you through the KYC process, and facilitate the approval process so your installation work can start at the earliest..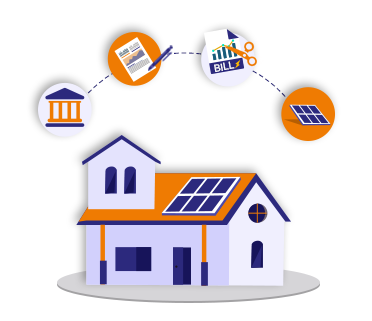 Zero Stress Installation
Detailed Design
STAR Energy Systems designs multiple system options for you (e.g. Premium, Economy).
Based on your selection, STAR Energy Systems creates a final system design.
STAR Energy Systems provides detailed guidance to help you make this choice.
On-site Work
Encompasses delivery, construction and commissioning of your solar installation.
Your presence is needed only during this installation phase.
Systems less than 20kW are typically completed within 7 days.
Net Meetering
Net Metering (NM) allows you to seamlessly push electricity from your solar energy system into the main power grid. As a result, you get the benefits of near-zero bills and low carbon footprint.
To get a NM connection, technical approval and an updated (bi-directional) meter is needed from your local electricity office.
Don't worry, STAR Energy Systems takes care of this from start to finish!